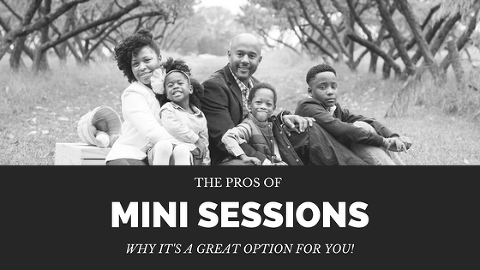 The Pros of Mini Sessions
This time of year photographers are in full swing.  Leaves are changing, temps are cooling down and the thought of upcoming holiday cards are on people's minds.  So from September through November, sometimes even running into early December, things are pretty much booked solid for most photographers.  For this reason I, along with others in my field, offer mini sessions.  It allows us to see serve more clients without adding extra stress to our lives.  If, as a client, you've never considered a mini session here are some great reasons why you should.
It saves you time.  In our fast paced lives rarely do we get to take out the time for a full one hour session.  As much as I wish people would take more time for themselves, I know it's not always possible.  Especially during this time of the year.  For this reason you're able to squeeze in a quick 20-30 minute session and still get some amazing images to hang up in your home and share online with friends and family.
It saves you money.  The holiday season is fast approaching and every penny counts during this time of year.  So maybe you don't have funds allocated towards a full session, but would still like to have a photo to send out in your holiday greeting card.  An inexpensive solution would be to book a mini session.
It's convenient.  The date and location is already chosen for you by the photographer so all you have to do is book and show up during your designated time slot.  Not much planning or thinking is required on your part and let's face it with everything else you have going on this makes life just a little more simple.
It's great for small children.  Most young children (1-5 years old) aren't going to give you more than 20-30 minutes in front of the camera.  They have short attention spans and get bored easily so a quick mini session will allow you to get great shots of your entire family and keep the tantrums to a minimum.
It allows you to book your favorite photographer without too much forward thinking.  So you've been putting off a session for weeks and weeks and when you finally remember to contact your photographer, they're booked!  But not to fret, mini sessions spaces are available and you're so thankful you're able to get in on this deal.  I have clients that book fall sessions early in the summer because they know preferred dates fill up quickly.  Maybe you're not that much of a planner and even though you think to make an appointment for fall, it somehow slips through the cracks.  That's where mini sessions can become life savers.  It saves you from having to push back your session to yet another year.
Mini Sessions are perfect for anyone looking to have fall portraits done for a plethora of reasons.  Above are just a few reasons why they're great and I'm sure you can think of plenty more.  If you're looking to book a Fall Mini Session with me contact me for available time slots.  I look forward to working with you and creating wonderful memories for you during this season.