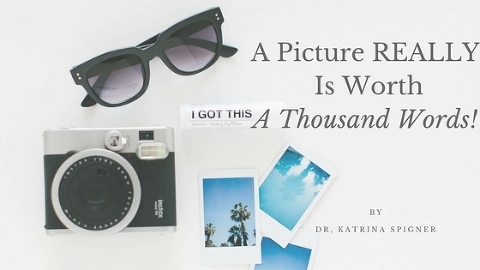 A Picture REALLY is Worth A Thousand Words!
I had the pleasure of meeting and working with Dr. Katrina Spigner at the start of 2017 for her branding session via another branding client of mine and we immediately hit it off!  We had so much fun getting to know one another during our time together and by the time it was all over I'd felt like I'd known her for years.  When I put out the call for guest bloggers she reached out to me and I was ecstatic.  Having read some of her other articles I was truly thankful that she would take time out of her busy schedule to do a write up for DBP.  You guys are in for a treat!
---
Have you ever stopped to listen to a picture?  
I ask because we are bombarded with images through social media and television, and if you are like me, the nearly 5,000 pictures stored in my cell phone. We have become fascinated with our ability to crop, add filters, change colors, and even add puppy ears, noses, and a crown of flowers to our pictures. Yes…I know these things are fun. But, I return to my original question.
Have you ever stopped to listen to a picture?
In January 2017, I had my first Branding Session with Denise Benson Photography. Because I had never had this type of session before, I really did not know what to expect. Leading up to my photo shoot, I had already fallen in love with Denise from afar. She was professional, the materials I received via mail were stellar, and the process for doing business with her was incredibly efficient. On the day of the shoot, I met Denise face-to- face for the first time. Yet, I felt like I had known her for years. I felt connected to her and had immediate trust that my session was in good hands.
Okay…so you're asking what does that have to do with the thoughts that run through your mind when you see a picture. Well, I'm glad you asked. Here is the thing…
I felt this deep connection to Denise and her work because prior to ever meeting her, I had been snooping around on her website. I had spent time going through the gallery of pictures in her portfolio. The truth of the matter is…her work had spoken me. Each image had something to say. In some, I heard joy. In many, I heard peace. In the majority, I heard happiness. These pictures spoke volumes.
However, it wasn't until I received the proofs from my own shoot that "a thousand words" ran through my mind. Each picture spoke of my journey. Embedded in each image, was my story. Each picture housed my history of the good, the bad, and the ugly. My pictures whispered reminders of what it had taken to get to this place.
My pictures spoke to me about my strength, resilience, confidence, and voice. My pictures spoke my AUTHENTICITY.
You see…
If you would have asked me years ago, "Katrina, who are you?" I would have told you about my age, my family, my educational background, where I worship, my career, where I live, my hobbies, along with multitudes of other external descriptors. I would have told you all about my external world and all of the things that exists in that world. I would have flashed a convincing smile that emerged from the many masks I wore. I would have told you many, many wonderful things about the woman I wanted you to see, while failing to mention the woman who was covered under all of the external stuff… But, after a tumultuous and arduous journey of uncovering the "Real Me" – my pictures told a different story…
I am a woman who is comprised of the sum total of her experiences. I am perfectly imperfect. I am flawed. Yet, I am still perfectly loved by God. I am scarred. Yet, my scars are beautiful reminders of just how far I've come. I am gifted. Yet, my gifts don't define me. My definition comes based upon how I use them. I am complex. Yet, my complexities are a gleaming representation of how we are all created by God to be unique. I am confident. Yet, I am not confident in myself, but in the truth that I was created to shine in the world. I am certain, not about everything, but certain that there is a purpose, plan, and destiny at work in my life that far exceed my ability to comprehend. I am powerful, not because I believe that I exude strength, but because I am committed to addressing my weaknesses. I am passionate about life. I am inspired by possibilities. I am excited about my journey.
Why?
Because my pictures spoke to me about my future and they told me…my best is yet to come.
So, I know for sure that pictures are worth a thousand words. If you don't believe me, pause to listen the next time you look at yours. You'll be surprised by what you hear.
---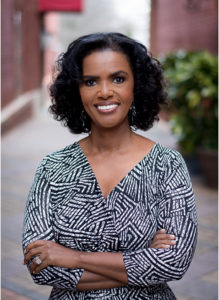 You can connect with Dr. Katrina Spigner on the following platforms:
Facebook: @resourcesolu (Re-Source Solutions)
Twitter: @KatrinaSpigner
Instagram: @drkatrina_spigner
Website: http://www.re-sourcesolutions.com
Website: http://voicelessons.solutions