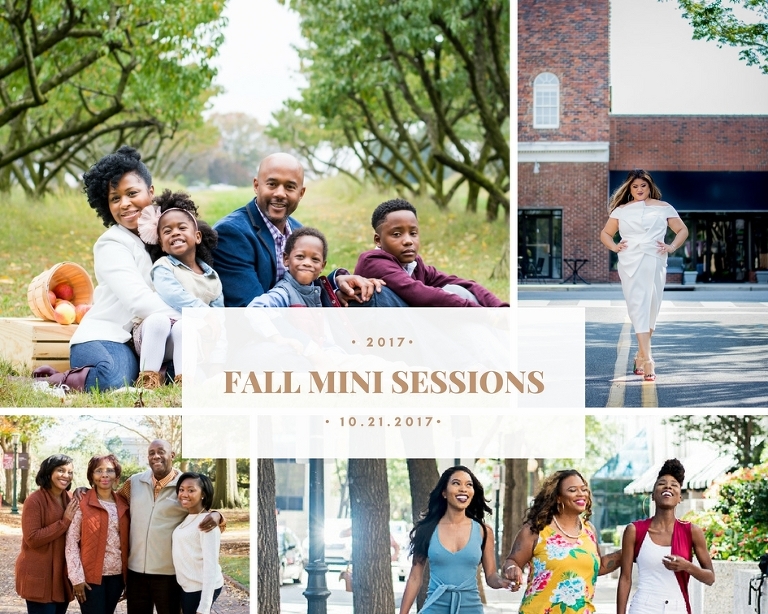 2017 Fall Mini Sessions
It's that time of the year again!  I eagerly anticipate my Fall Mini Sessions each year and this year I'm excited to announce a new location!  If you're unsure if a mini session is right for you hop over to my blog post giving you all of the benefits of booking a mini session.  This year sessions will take place in Old Town, Rock Hill, SC.  It's a quaint downtown area that will give you a little something different from the standard park portrait session.  A few slots have already filled up, so if you're interested in booking a session make sure to contact me as soon as possible to secure your space.  Mini sessions are great for families (up to 5 people), friends, branding and so much more!  You will also receive your images in time to start sending out your upcoming holiday greeting cards!  So here are the all the details you need to know:
Date: October 21, 2017 (rain date is October 22, 2017 and you must be available for both dates)
Location: Old Town, Rock Hill, SC
Time: 8 am – Until (sessions will take place in 20 minute increments)
Price: $149 (plus tax)
What's Included:
Digital Welcome Guide
10 Edited Digital Images (with options to purchase more)
Photo Print Release
Hopefully that's piqued your interest and you're all ready to book your next session!  Shoot me a message and let me know you're interested in securing your mini session time slot and I will forward you the available times and other information you need to know to start the booking process.  I can't wait to hear from you!