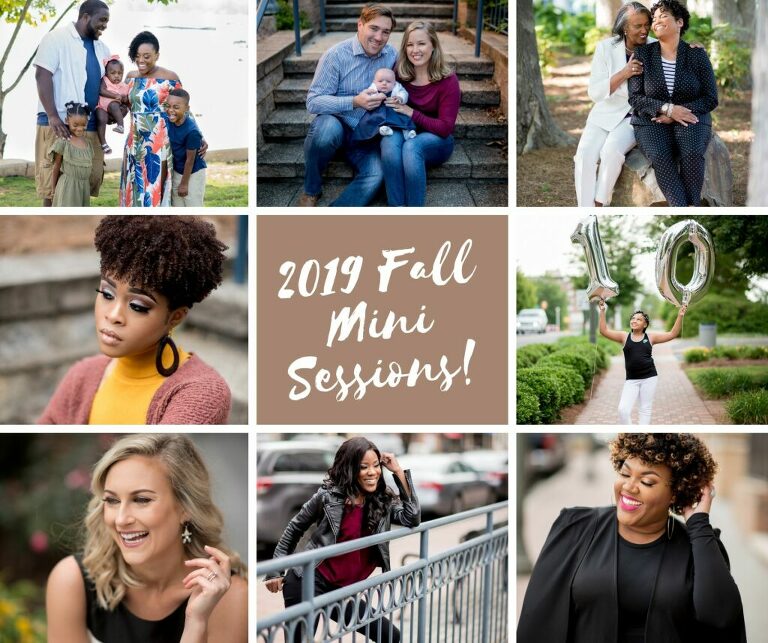 2019 Fall Mini Sessions Are Here!
What's this?  A mid-week post?  Well that can only mean one thing…yep it's announcement time!  I'm so excited to announce that my 2019 Fall Mini Sessions will be taking place on Saturday, October 19 in downtown Rock Hill, SC.  First dibs went out to my newsletter subscribers, BUT I still have a couple of time slots still open.  So here are all the important details YOU need to know:
Price: $175 (plus tax)
Date: October 19, 2019 (Rain date will be Sunday, October 20 & you MUST be available on both dates)
Time: Slots will be open in 20 minute increments beginning at 8 am
Location: Downtown Rock Hill, SC
What's Included: 8 Edited Digital Images with the option to purchase more
Mini Sessions are great for families (with up to 5 members), high school and college seniors, couples and YES, even brands!  This is perfect if you're just needing to update some headshots for your website or LinkedIn account or for those needing holiday images for their upcoming Christmas cards.  Space is limited and will be on a first come first serve basis and there are only a few spaces left so book accordingly!  Contact me today for more information or to secure your time slot!